Aminu Saleh College Of Education, Azare Reconstitutes it's Internal Security Standing Committee.
Pursuant to its earlier effort in ensuring peace and stability in the Institution, the Management has reconstituted its Internal Security Standing Committee.
The Committee has been inaugurated today (6h November, 2020) and is to take Immediate effect. The measure, is to help curtall the menace of security challenges and other emerging issues in the College. The Committee is saddled with the responsibility of supervising, coordinating enforcing and advising the College on security issues and policies. This is with the view to ensure the achievement of an effective and efficient security architecture that could guarantee the safety of lives and property as well as ensure the continued peace and stability of the Institution.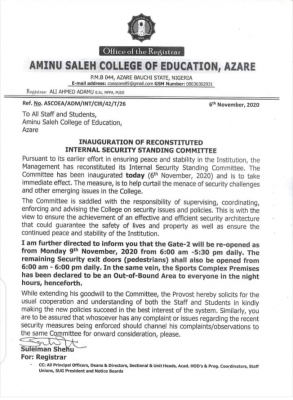 I am further directed to inform you that the Gate-2 will be re-opened as from Monday 9th November, 2020 from 6:00 am -5:30 pm daily. The remaining Security exit doors (pedestrians) shall also be opened from 6:00 am-6:00 pm daily. In the same vein, the Sports Complex Premises has been declared to be an Out-of-Bound Area to everyone in the night hours, henceforth.
Pay attention: Kebbi State College Of Health Science And Technology, Timetable For The Department Of Community Health
While extending his goodwill to the Committee, the Provost hereby solicits for the Usual cooperation and understanding of both the Staff and Students in kindly making the new policles succeed in the best interest of the system. Similarly, you are to be assured that whosoever has any complaint or issues regarding the recent security measures being enforced should channel his complaints/observations to the same Committee for onward consideration, please.
Thanks for reading this article, you should check out other articles. Be sure to subscribe to our newsletter to get future updates about admissions in Nigeria. Kindly share this articles with friends and colleagues who will definitely benefit from it.